When new competitors compete with entrenched industry leaders, there's a common yet effective tactic of offering more for less. And creating a better value proposition to compete with industry veterans like Lifelock and IdentityGuard is certainly working for Identity Force, an up and coming provider of proactive identity, privacy, and credit protection services for individuals, businesses, and government agencies.
In fact, Identity Force was recently awarded the coveted award for Best in Resolution by Javelin Strategy & Research which compared the leading 17 identity protection services.
Why makes Identity Force different?
In the identity protection industry, there are two schools of thought on the best approach to protecting your information. Companies like Lifelock focus their services on detecting the unauthorized use of your information and rely less on monitoring your credit report. In fact, Lifelock only offers to monitor one of the three credit bureaus. The issue with this approach is that no monitoring system will catch every transaction.
On the other hand, competitors like IdentityGuard focuses on offering real-time access to all three credit bureaus while actively monitoring your credit score. This approach obviously provides less information outside of your credit report.
Identity Force takes a hybrid approach and offers the best of both worlds and undercuts pricing on both Lifelock or IdentityGuard. It's an attractive value proposition and it's not hard to see why it's working. You get increased protection from monitoring both your credit report and information outside your credit report such as court records, change of address requests, banking and credit card activity, payday loans and even sex offender reports.
Identity Force offers two simple plans, UltraSecure and UltraSecure+Credit. UltraSecure+Credit offers everything UltraSecure does but includes credit monitoring, credit reports and credit scores on all 3 credit bureaus.
| UltraSecure | UltraSecure+Credit |
| --- | --- |
| $17.95 mo or $179.5/yr | $23.95 mo or $239.5/yr |
| Real-time monitoring of public records and black market sites | Real-time monitoring of public records and black market sites |
| Instant alerts when fraudulent activity detected | Instant alerts when fraudulent activity detected |
| Professional restoration services | Professional restoration services |
| - | 3-Bureau Credit Monitoring |
| - | 3-Bureau Credit Reports |
| - | 3-Bureau Credit Scores |
| - | Monthly Score Tracker |
So how does Identity Force do it? Let's take a closer look.
Protection
As part of your plan, members are provided with online PC protection tools designed to protect you while you're shopping, banking, and sharing online from your PC. Anti-keylogging software protects you against malware that might otherwise steal your personal information and anti-phishing software helps you detect and avoid phishing sites, websites set up to look like a real company's website in order to hoodwink you into entering personal information.
In addition to these tools, a particularly innovative feature unique to IdenityForce is DeleteNow™. This service scans the Internet, with a focus on public records sites, and gives you a detailed report of information that has been made public. You can confirm whether the information relates to you — or to someone else with the same name — and then, if appropriate, give IdentityForce the go-ahead to delete the data from those sites.
This is an effective way to not only protect your identity but protect your privacy as well. 9/10
Detection
Like most other identity protection services, Identity Force understands that it's virtually impossible to prevent determined identity thieves from obtaining access to your personal information. If you've ever filled out a job application, a loan application or visited the doctor, your information is already in multiple databases. And unfortunately, these databases are not as secure as we'd all like.
Detecting and reacting to identity fraud when it happens is the best way to minimize the damage and expedite recovery.
Identity Force offers comprehensive monitoring of criminal, court and public records including change of address requests, payday loans, and the sex offender registry. In addition to these databases, Identity Force also monitors thousands of websites, black-market chat rooms, blogs, and other data sources to detect the illegal trading and selling of your personal information. If your information is detected, you'll receive prompt alerts to take immediate action.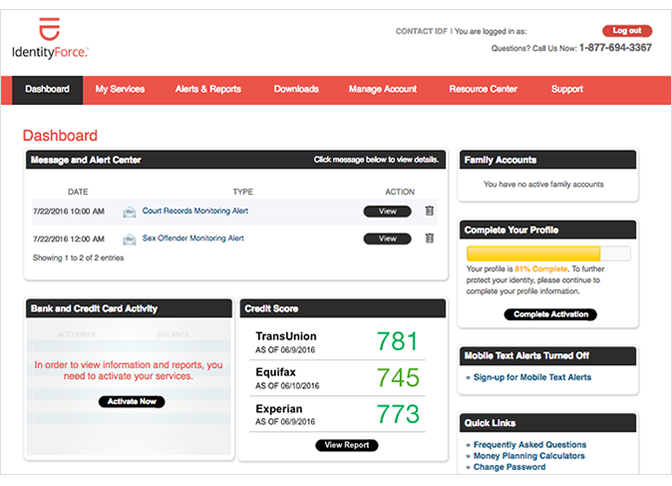 Identity Force also offers Advanced Fraud Monitoring. You'll receive virtually real-time alerts when lenders, such as banks, auto dealers, mortgage companies and government agencies, request a copy of your credit report.
If you select UltraSelect+Credit, you'll also have access to your credit report, score, and Identity Force will monitor it in real-time for negative activity such as the opening of new accounts, credit inquiries, exceeding credit limit, or missed payments.
Detection is an area where Identity Force truly stands out. They're hybrid approach offers comprehensive protection and at a better price point then both Lifelock or Identity Guard. 10/10
Recovery
IdentityForce provides complete, comprehensive identity theft restoration services from Certified Protection Experts available 24/7. Their specialists can save you literally hundreds of hours by completing all the paperwork, making calls, and doing all the heavy lifting to make sure your identity is restored.
Identity Force also offers members a $1 Million Theft Insurance which covers certain out-of-pocket expenses and lost wages if your identity is stolen. You can read the fine print on their insurance policy here.
Price
As I mentioned earlier, Identity Force offers an attractive value proposition. They offer more for less. While this may translate to lower margins, Identity Force doesn't spend nearly close to what Lifelock or Identity Guard on advertisement. They're hoping that conscientious shoppers and the press will spread the word. And to make the value proposition even better, here's a special promotion:
Special Offer
Use any of our links and receive a 17% discount.
UltraSecure: $14.95/month or $149.50/year (2 month discount)
UltraSecure+Credit: $19.95/month or $199.50/year (2 month discount)