AI is our friend, really.
The first time I really learned about machine intelligence was when a colleague recommend I read Nick Bostrom's Superintelligence which promptly scared me to death.

Most complete identity theft protection service we reviewed along with aggressive pricing makes this our 2018 Recommendation.
Since then, I've adopted a more realistic appreciation of not only the threats but the opportunities that lie in using and developing machine learning to make our lives easier. And with terms like machine learning, data science and artificial intelligence becoming marketing buzzwords, it was just a matter of time before a leading identity theft company coupled some form of AI into protecting your identity.
Enter Identity Guard® with Watson.
The real area where AI can make a difference in identity theft protection is in monitoring and proactive protection and if you've read anything I've written on the subject, it's the only effective strategy identity protection services have.
Twenty years ago your identity was your social security number, your address, and your name. Back then, all you to worry about was making sure nobody went dumpster diving in your neighborhood and making sure nobody stole your mail.
Today, the digital world has changed everything.
Your identity is a vast, interconnected web of little digital pieces of information that you leave behind. Technology is changing everything about how we live – from the way we shop to how we interact with friends, acquaintances, and strangers. With this constant change, there are more opportunities for fraud, financial harm, and cybercrime. Just take a look at this year's data breaches alone.
And it's just not financial fraud you have to worry about anymore. There's stolen health information and online personal crimes such as stalking and cyberbullying.
And this is where Identity Guard puts Watson to work.
What is With Watson and what does it do?
Watson, named after IBM's founder, Thomas J. Watson, is an IBM supercomputer that combines artificial intelligence and sophisticated analytical software for optimal performance as a "question answering" machine. You may recall that in 2011 Watson famously challenged and beat Jeopardy! champions Brad Rutter and Ken Jennings on live television.
IBM has continued to develop Watson and in 2013 began putting Watson to work, first in medical fields and now offers businesses in various fields a robust AI platform to optimize tasks and improve efficiencies.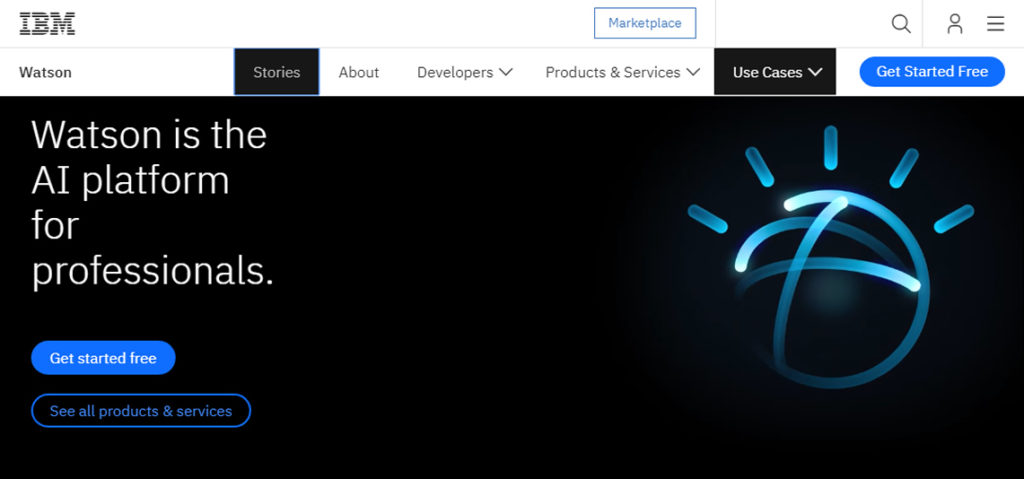 So how does Identity Guard use Watson?
Identity Guard builds a profile of your online behavior, including what services you use, what operating system you have on you computers and even the brand of your home router. With this detailed information, Watson than begins to scan and monitor the web, darkweb, public records databases, and even sex offender lists and searches for not only your private information, it searches for potential threats and notifies you of them.
But this sounds vaguely familiar, right? How is this different from Lifelock's or IdentityForce's monitoring services?
The difference is Watson Natural Language Classifier is one of the services that makes this possible. The service uses AI techniques to return the best matching classes for a sentence or phrase that can be found in news articles, blogs, posts, social media comments – any online information.
Whatever proprietary technology Identity Guard's competitors are using for monitoring and scanning the web, it's not a supercomputer and certainly not one named Watson.
But the real question is how much of a difference does Watson make?
And unfortunately, there's no empirical data in yet. But at the time of this writing, Intersections Inc. is aggressively marketing Identity Guard with Watson. Identity Guard is offering their Premier Protection for $19.99/month for individuals and $29.99/month for a family. Lifelock's Ultimate Plus for individuals starts at $29.99/month and there are no family plans.
For a family of three, with Identity Guard's Premier plan, the monthly cost is $29.99. With Lifelock's Ultimate Plus, the same family of three would pay $65.97/month.
Identity Guard With Watson Plans
Identity Guard has consolidated their protection features into three tiers of protection: Value, Total and Premier with different prices for individuals and families. The significant difference (as always) is the one feature which costs all identity theft services money, the credit reports. Unfortunately, damage to your credit file is still where most identity theft victims suffer the largest setback and if you can afford to monitor it, we recommend it.
The only difference between Total and Premier plans are the annual 3-bureau credit report and the Social Insight Report. Although you are entitled to get an annual report from all 3 credit agencies for free, let's just say it's not the easiest thing to do online and you have to remember to do it. It's really a convenience thing but the Social Insight Report is different.
| Features | VALUE | TOTAL | PREMIER |
| --- | --- | --- | --- |
| Individual | $5.99/month | $14.99/month | $19.99/month |
| Family | $9.99/month | $25.99/month | $29.99/month |
| IBM Watson AI | | | |
| $1 Million Insurance | | | |
| US Case manager | | | |
| Risk Management Score | | | |
| Mobile Application | | | |
| Dark Web Monitoring | | | |
| High-risk transactions | | | |
| Watson AI detected threats | | | |
| Monthly TransUnion credit score | | | |
| 3-Bureau credit changes | | | |
| Annual 3-bureau credit report | | | |
| Social Insight Report | | | |
| | Visit | Visit | Visit |
Almost everyone is on social media these days, from your boss to your teenager – making it imperative to monitor and use caution when you post. But short of spending hours looking through you and your family's social media activities each day, what can you do to better manage your online image? Identity Guard® makes managing you and your family's social media presence easy.
They scan your profiles and rank your online presence with a Social Media Score. Their interactive word map then allows you to see what in your online social media presence is potentially harmful.  And we make it easy to remove inappropriate and potentially damaging posts as well as help you guide your children to use social media responsibly.
Conclusion
Identity Guard's new features are certainly impressive and makes some legitimate improvements with preventing identity theft as opposed to resolving issues after the damage has been done.  Coupled with the aggressive individual and family pricing, Identity Guard with Watson is a smart entry in a crowded marketplace.
Try it today. Identity Guard® with Watson.
The Review
Identity Guard With Watson
By partnering with IBM's Watson, Identity Guard has created the first "smart" identity theft monitoring solution. With Watson, Identity Guard can scan millions of news articles, blogs, posts, and social media comments daily to warn you of emerging threats.
Review Breakdown
Protection

0%

Detection

0%

Recovery

0%

Price

0%