Lifelock or TrustedID:Which Service Is Right For You?
We live in a world of data breeches where we not only have to worry about guarding our own sensitive information but how others guard our trusted information as well. Fortunately, we also have more choices than ever before and it while it can be confusing trying to determine what you're actually getting and which product will offer you the greatest security, we'll help try to do an apples to apples comparison between two popular identity theft protection services, Lifelock and TrustedID.
Both identity theft services have recently introduced upgraded and improved versions of their flagship protection plans.
Lifelock has continuously evolved their offerings while separating their protection services into three separate tiers, allowing its customers to better control their level of protection. The new features and services are available in Ultimate, Advantage, and Standard packages. For the purposes of this comparison we'll compare the similarily priced Lifelock Advantage vs TrustedID's Essentials protection plan.
How are Lifelock and Trusted ID Similar?
Opt-out of pre-approved credit offers
Have a $1,000,000 warranty
Fraud Alerts (Called 'Lender DoubleCheck' by TrustedID)
Order yearly credit reports
Wallet protection
Scan internet black markets looking for misuse of your information
24/7 on call helpline
Both LifeLock and Trusted ID will remove you from junk mail lists and place fraud alerts on your behalf. They will also scan the internet for your information on the web. They look for your date of birth, address and social security number and notify you immediately if any activity is found with your information attached to it. With Trusted ID you can even ask them to watch for your bank account and credit card number.
Both services also offer wallet protection which can give you some small sense of security when your wallet is gone. Having someone to call and help you take the necessary steps to replace your license, insurance cards, and other forms of ID as well as helping you with canceling and replacing your credit and debit cards can be a great comfort.As you can see, both LifeLock and Trusted ID offer very similar coverage and have very similar basic features.
How Do Lifelock and Trusted ID Differ?
Credit Report Monitoring
With the introduction of IDEssentials, TrustedID added credit monitoring of your report and score with all three major credit bureaus: Equifax, Experian, and TransUnion. TrustedID will scan your reports daily and alert you if they detect any fraudulent or suspicious activity. Lifelock does not offer credit monitoring.
Credit Freezes
Like Lifelock, Trusted ID sets and renews fraud alerts every ninety days. What sets TrustedID apart is the option to place credit freezes on your credit file, a far more secure measure of protection. (Read our article on Fraud Alerts vs Credit Freezes for more information) While you can do this yourself, having a service perform this for you can come in handy when you can't remember your PIN number.
Personal Information Scanning
Lifelock recently launched their Command Center which actively monitors unregulated internet and file sharing networks for your personal information. In addition they scan payday loans, sex offender registries, and other public records to find your information. If they find it, they'll alert you by email and help protect you against accidental information disclosures.
Anti Virus Protection
Trusted ID also keeps an eye on your computer, giving you an anti-spyware program that can be installed on as many as three computers. An unsecured computer is at high risk for hackers, spyware and viruses, and a good protection program can cost you as much as $100 a year. With trusted ID, not only does this software automatically update every day, it is given to you at no charge so long as you have an account with Trusted ID. This benefit almost pays for the cost of protection itself.
Lost Wage Coverage
Probably the greatest difference between LifeLock and Trusted ID is in the fine print of their identity theft insurance guarantees. While both claim to have $1,000,000 policies, they cover very different things. According to the non profit Identity Theft Resource Center, the primary financial loss of identity theft victims are the lost wages involved when they need to spend 30-60 hours contacting their financial institutions and clearing up their credit.
Unfortunately, Lifelock's policy does not cover lost wages while Trusted ID offers an industry best $5,000 /4weeks. Most of Lifelock's coverage is for hiring attorneys and investigators to "clear your good name", something most cases of identity theft probably don't require. Most victims of identity theft do need to spend countless hours calling their credit card companies and filling out fraud affidavits. Trusted ID will reimburse you for this time while Lifelock will not. You can read more about Identity Theft Insurance here.
Family Coverage
Another large difference is family coverage. Lifelock doesn't offer any discounts to cover your spouse, elderly grand parents and charges $25/year to cover minor children. Trusted ID covers the entire household living under one roof for less than the cost another policy.
To illustrate the wide disparity in cost; for a family of 2 adults and two minor children, the cost of protection for Lifelock would be $347/year ($148.50 for each adult and $25 for each child). Trusted ID's coverage would only be $240.00 These are advertised prices and if you use any of our links, you'll receive significant discounts.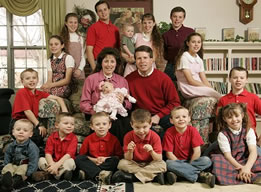 For a larger family, the price differences are more dramatic. For the same family living with two grandparents, the Lifelock plan would cost $643/year and TrustedID would be unchanged at $240.00/year (provided all the adults are part of the same household). Anyway you look at it, these are significant savings.
If you're known to the public as "octomom" or your last name is "Duggar", then it's really a no-brainer. If the Octomom were covered by Lifelock, she would need to pay $348.50 while the near identical coverage from TrustedID would be $240.00.
The Duggar family from Discover Channel fame would pay $747 for their 18 children with Lifelock and with TrustedID, you guessed it, $240.00. I sense a sponsorship deal here somewhere.
These may be extreme examples but a large majority of victims come from families and it certainly makes sense to protect the identities of those you care about.
Our Opinion
LifeLock and Trusted ID both have reputations of stability and trustworthiness, and in the end both of them are good choices to help protect you from identity theft. We feel that TrustedID edges out Lifelock as a service that offers more for less.
In addition to almost everything Lifelock offers, with Trusted ID, you have the option to place credit freezes, free virus /spyware protection for your computers, credit monitoring, your credit score, medical benefits review, and when looking to add a child, spouse, or grandparent to your coverage, TrustedID has the best pricing available.
Lifelock did pioneer the entire identity protection industry and was the first to offer a million dollar warranty but the value in TrustedID's offerings is just to strong to ignore. It's almost like TrustedID was designed to imitate Lifelock, offer more, and then charge less.
Before making a final decision take the time to ask what services are important to you. How much coverage do you need, and how many people in your house do you need to protect? Both LifeLock and Trusted ID are companies with good reputations who will help protect you from identity theft and, should the worst happen, help you regain your identity and your credit.